Bulk landscape – craft toys from felt
Today, I wanted to talk about the wonderful art of felting fun craft toys from soft, colorful natural wool. I've been inspired by these small houses, which can turn out a fabulous city, which shall dwell in the house.

Almost lost art of felting things, that pleasing to the soul and eye, gradually revives efforts of numerous enthusiastic. It could be elegant hat, jewelry and brooches with exotic flower or a butterfly. With skillful hands we can create amazing jewelry, paintings, beautiful things for the interior. Feast your eyes on these wonderful houses and landscapes, they look like pictures descended from illustrated children's books and found the volume, which can decorate the interior and also will be useful to play.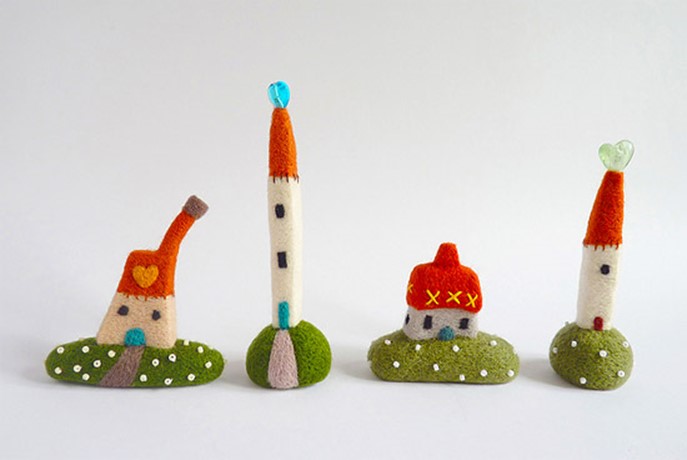 The technique of felting toys

Quite simple and ancient technique, does not require any special skills and allows you to get the desired result with some effort and patience. With the advent in stores for the needlewomen, high quality bright wool for felting and special needles, expanded opportunities for creativity in the technique of felting. Sold even special sets that have already chosen kits of wool in a specific range. Now, bright and intricate toys from felt can stay in your home.
This great little planet for the Little Prince great to decorate the children's room.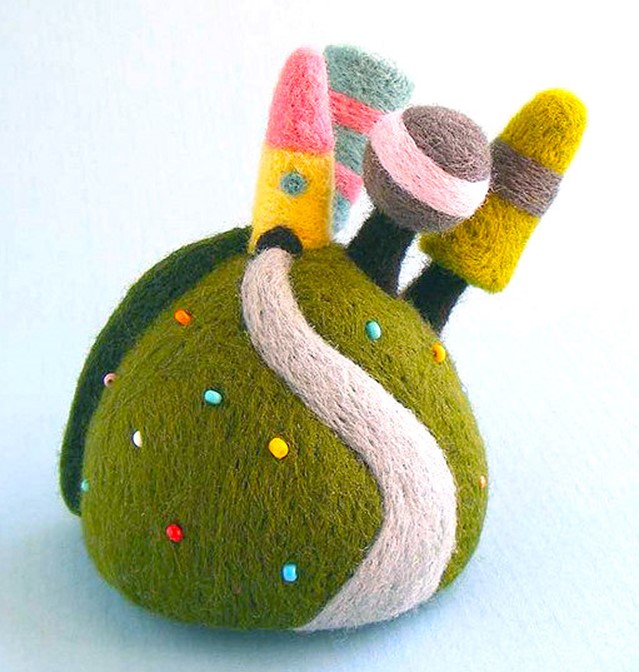 There are two types of felting: wet and dry. And such toys can be made by any of them.
Briefly recall the technology. In the wet felting pieces of wool torn off and laid layers crosswise. Each layer is moistened with soapy hot water, crumpled and when all the layers laid out, carefully felting. The product is then washed with boiling water, washed with cold water and dried.
To create such an interesting toy – town in the technique of wet felting, first roll a ball of green wool, dipped it in hot, soapy water and 15 minutes rolled in the palms. Is pretty solid ball. Then, similarly do the tree and the house, using different colors of wool for the stem and crown, for the house and roof. For greater rigidity, at the initial stage of milling, you can lay the wire frame, which will be better to keep the form and in the lower part of our ball to put the load for stability. But for toys this is not worth it and the desired rigidity necessary to provide a dense felting. In the final stages of work with the help of special needles, completing the formation of the required images. For decorating you can use any materials from silk threads, sequins, beads, rhinestones and many other decorative items. They can be glued or sew.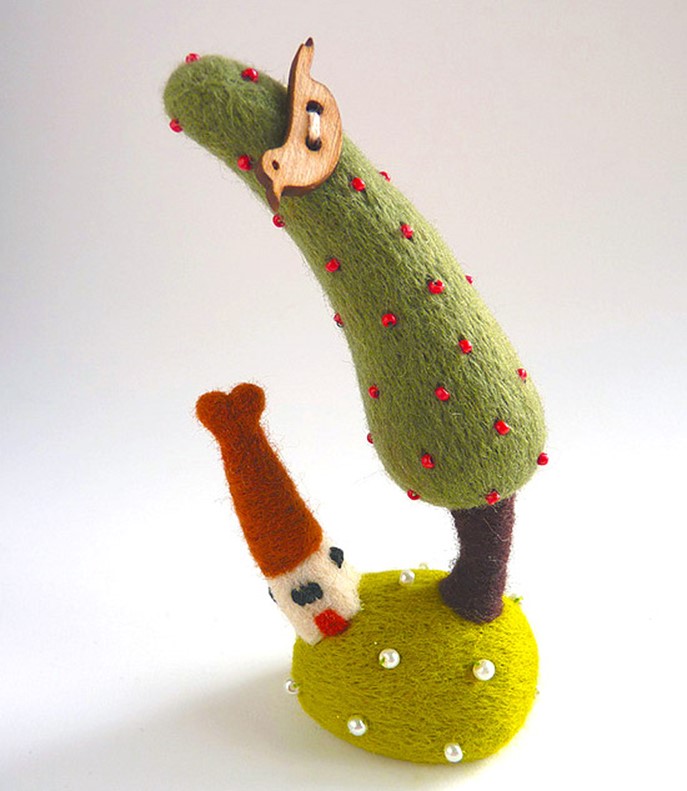 Similar results can be obtained using the technique of dry felting. For dry felting additionally uses special needles of different thickness and with different tips. For faster and more convenience in the work there is even a special device with seven needles, which helps in the early stage. Begin the process of felting to create volume, using thicker needles and long reeling the wool, shape the base of the toy. Uniting with each other parts, formed reliefs. For finishing use a very fine needle.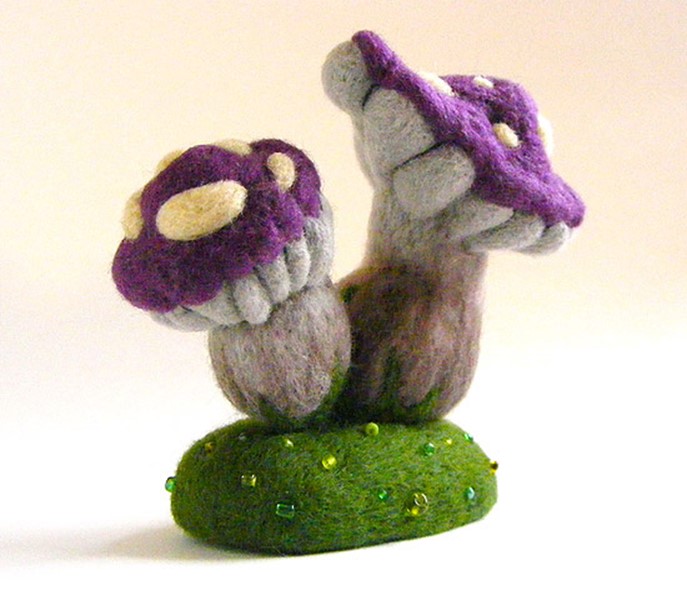 In these techniques, you can make a fun wool town-cake. Of course it's not edible, but it looks very decorative and appetizing.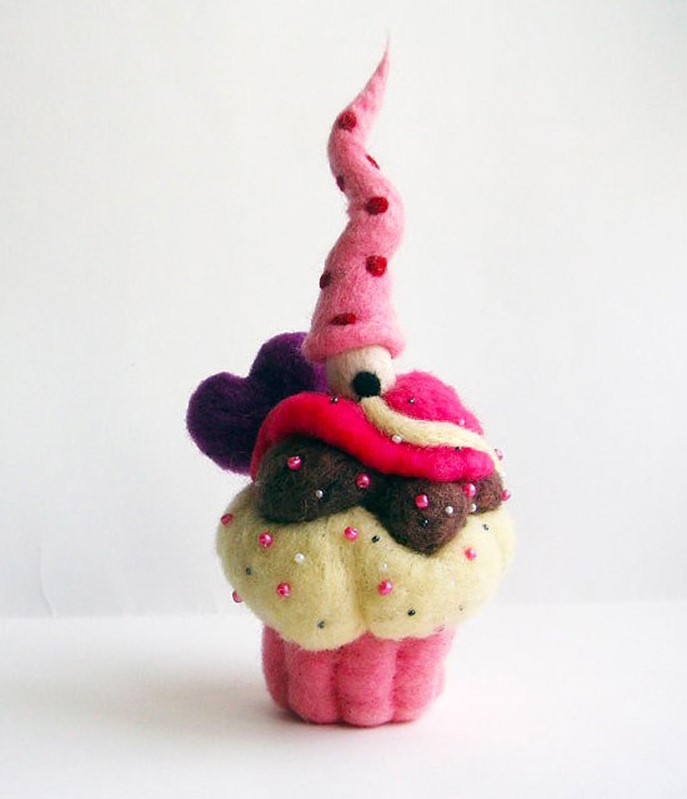 Even a novice can create the whole world and the whole universe in the palm.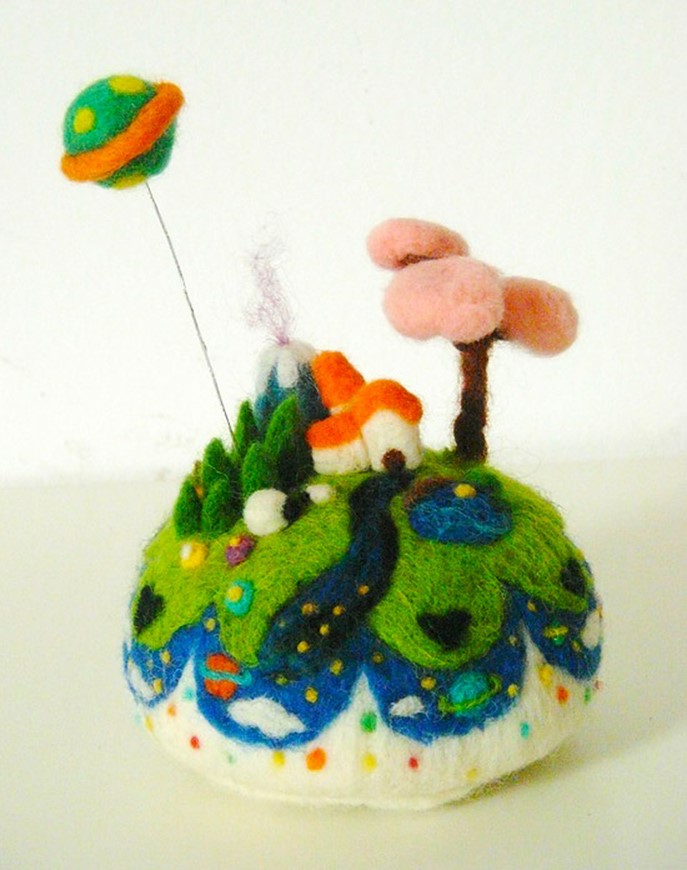 Talking about these interesting techniques, I want to note that there are no boundaries and limits of the flight of the creative imagination. You can create beautiful wool paintings, felting wonderfully poetic landscapes. These works are very similar to the painting, but we use wool instead of paints.