How to DIY gift wrapping: Ideas and Tips
Nice gift wrapping increases the value of any gift. After all, everyone is pleasant to reveal a beautiful box or multicolored rustling bag. Beautifully wrapped gift pleasant not only to receive, but to give.
Today we look at a few simple ideas of how to make a beautiful gift with their hands
1. Quick and easy
Here is the easiest way to wrap a gift on a sheet of paper. Place the gift in the center of the sheet, measured benefits enough paper to wrap a box and completely cut off the unnecessary edges. Fold the paper on each side and secure the folds of transparent tape.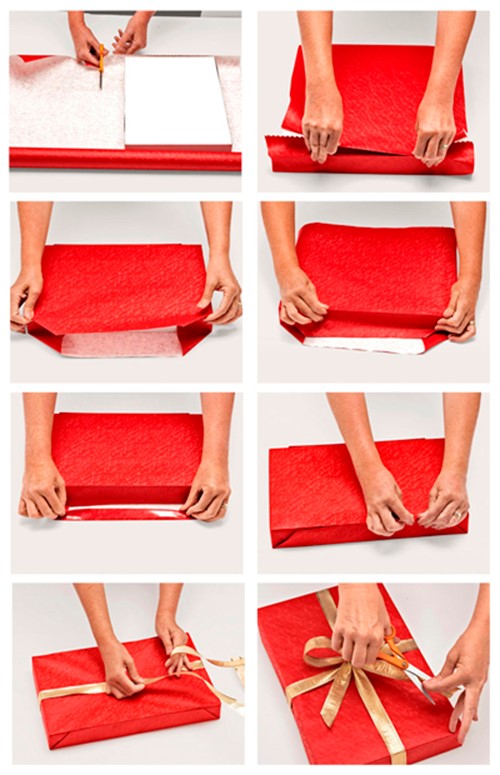 Bright paper, buds, color tape, funny bows made of paper and fabric –you can decorate the box using a lot of things! If your friend is traveler – you can wrap a gift in a card, a journalist – in a newspaper, a musician – in the musical sheets.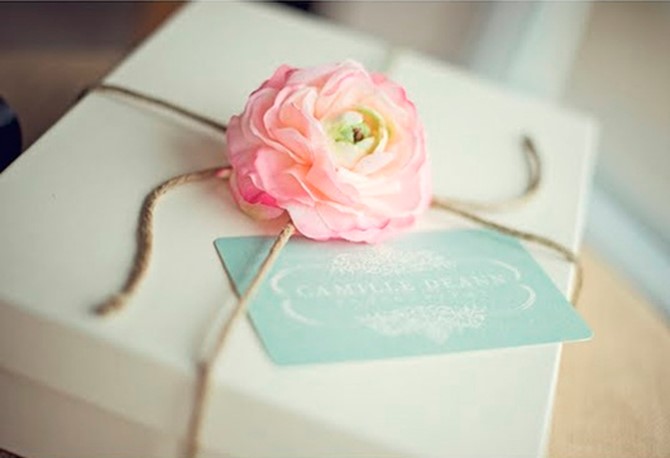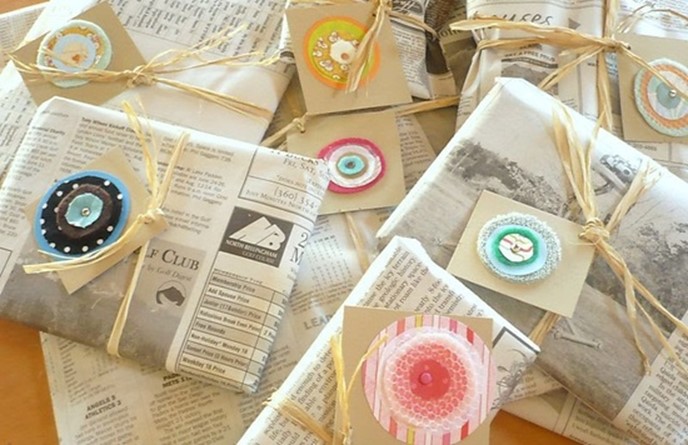 Make bright flowers of paper and use them to decorate a gift box.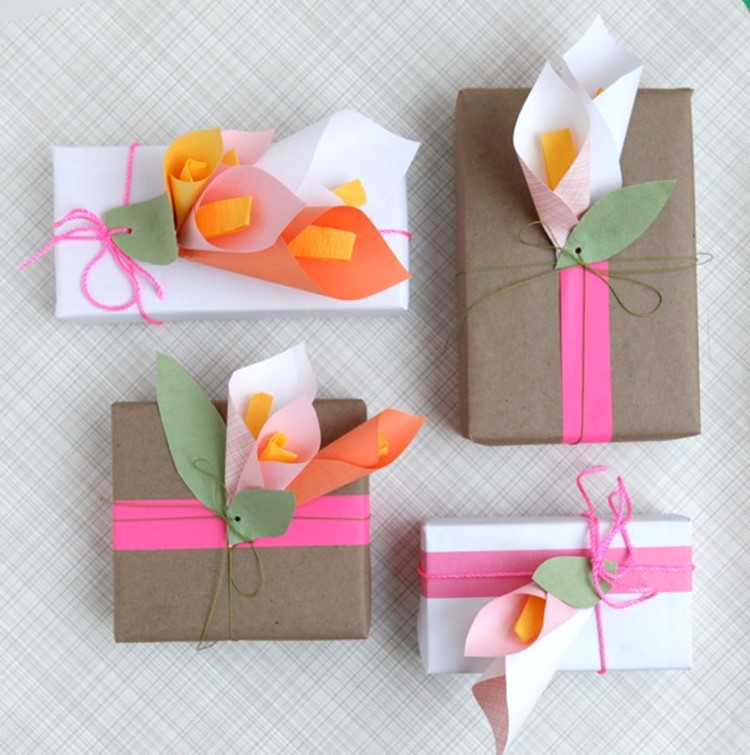 2. Packing bottles
We are going to visit – buy delicious sweet wine or champagne … Let's see, how we can wrap gifts.
Tissue
Wrap the bottle in a cloth in several layers (can be in separate flaps). Cut it with allowances on the bottom 5 cm (2 in) and the neck (5-10 cm (1-2 in) on cork, depending on how large pompon you want). Sew up the bottom of the package and tie the bottle neck tape. Cut the strips on top of the fabric. Voilà!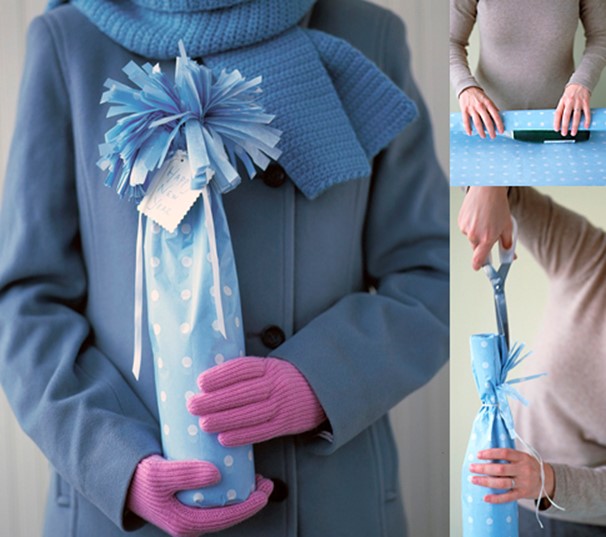 Paper
One of the simplest options – wrap the bottle in a sheet of brown paper and tie with a ribbon.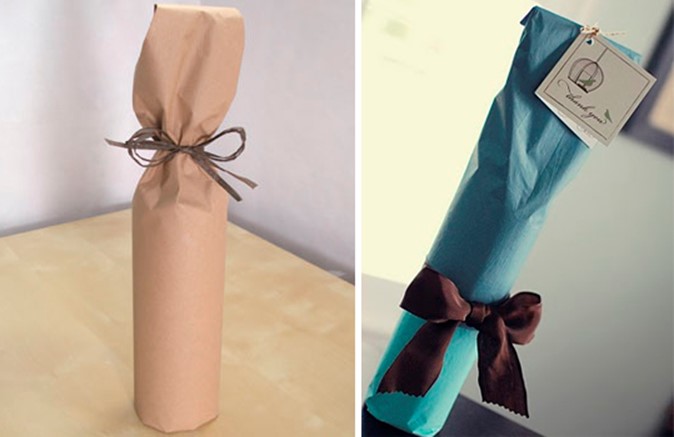 Wine for a housewarming
This idea of packaging wine is perfect for a housewarming or meet new neighbors – wrap the bottle in a pretty kitchen towel or napkin.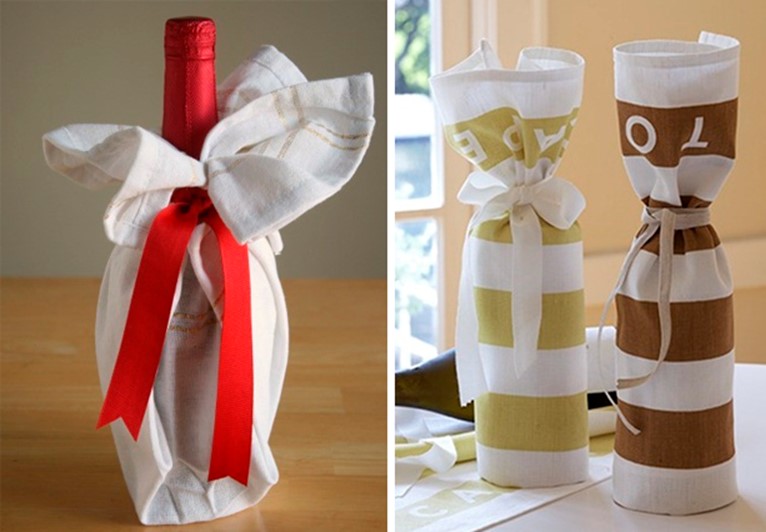 3. Flowers
Here is an interesting solution for packaging small bouquets. Delicate spring flowers will look perfect in a lightweight package – delicate napkins, lace tapes –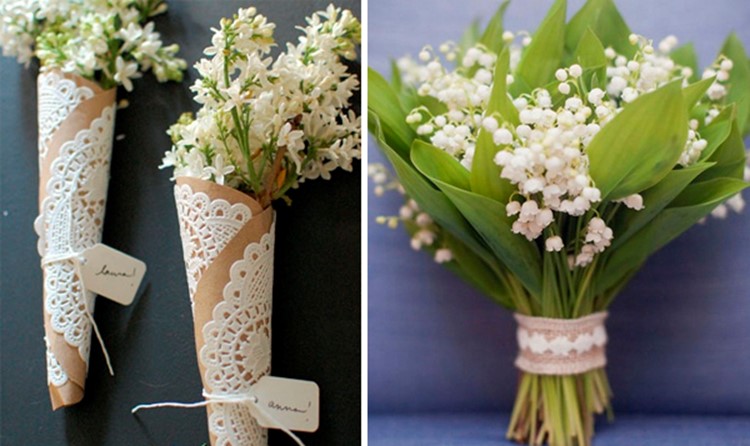 As for lush bouquets of summer flowers fit tight wrapping paper or even fabric –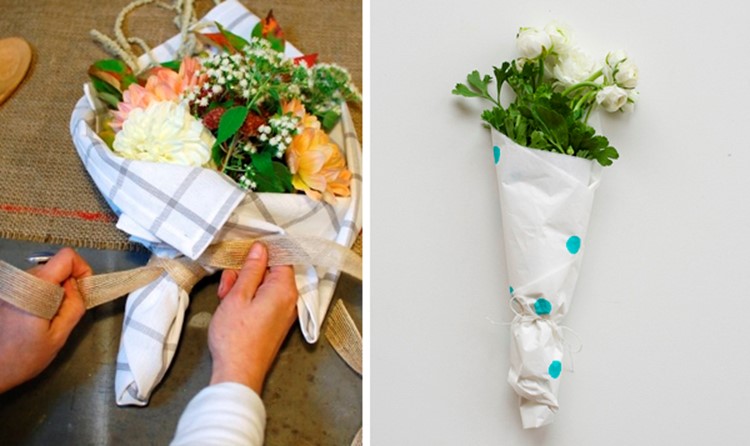 4. Romance in the wrapper
By the way in lace tape can be packed not only flowers, but the gift itself, especially if it is for a romantic young lady. The simple brown craft paper as the basis is perfect for delicate ribbons and bows.



Bright paper, boxes, stickers, buttons and stamps with the wishes will help you to pack your gift very well!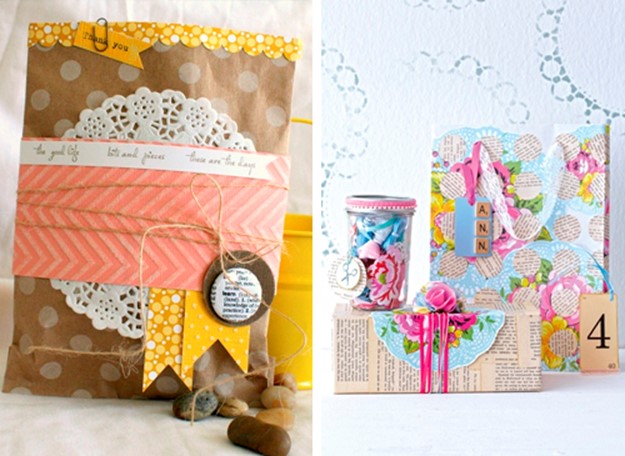 5. Pompoms instead of bow
Here is an interesting and fun idea packaging… with pompoms


6. Cool packaging
Sometimes the package may be a pleasant surprise. For example, such packages-owls, which can be made from colored paper and buttons.