Orthodox Easter egg of wool
An important part of Orthodox Easter – the use of religious motives in decoration. Today I'll show you how to make Orthodox Easter egg of wool. The process is simple and it take a little time. In total, an hour or two.

We need:
Not spun wool cream or white (for eggs);
Wool red, blue, green, light green, yellow, brown, pink;
Needle for Felting №1 and №2;
A sponge.
Let's get started. Draw out a strand of white wool from the main skein, as shown in the picture:

Form a ball, wrap tightly.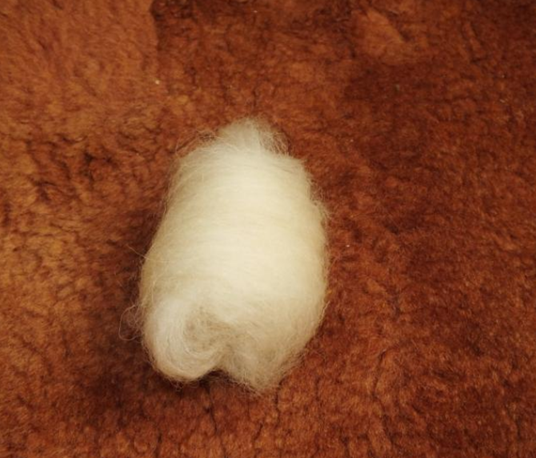 Then detach another strand from the main bundle and wrap the ball, putting a strand perpendicular to the previous one.

So building up several layers perpendicular to the winding ball.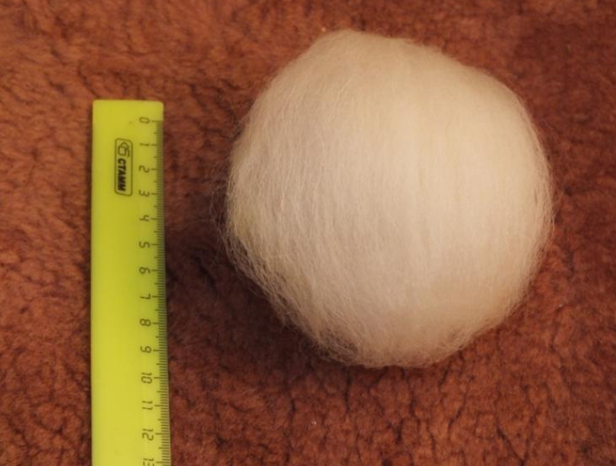 It is important to know that in the process of felting our egg will decrease. In the photo with rulers seen by how much. Then take a sponge, put our ball on it and pierce ball with needle uniformly rotating sphere.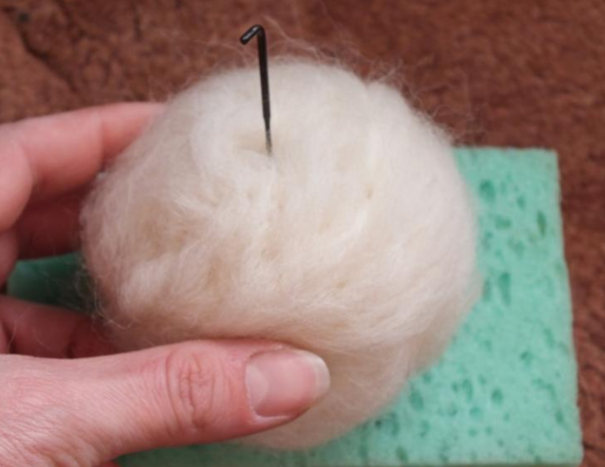 Needle beats should be somewhere along the width of an 1/2 inch (1,2 cm), at the beginning and during felting distance will decrease.

When the ball is half ready (you can easily figure it out – while squeezing it felt that it is not tight, springy) it is necessary to begin to shape the eggs. For this make more needle beats from the narrow side. Thus, the workpiece is ready.

Begin to lay out the pattern. Take a thin strand of yellow wool and make the outline of the dome.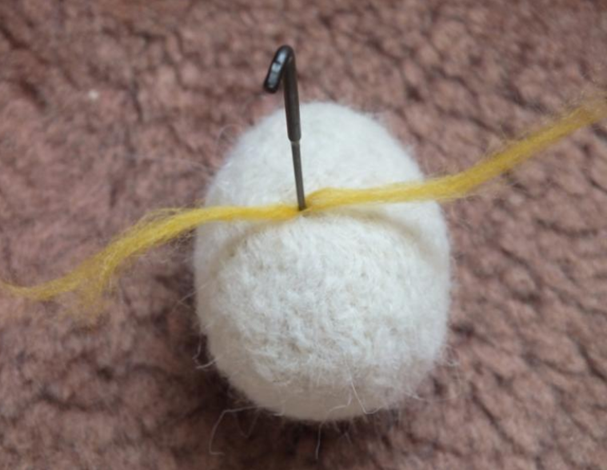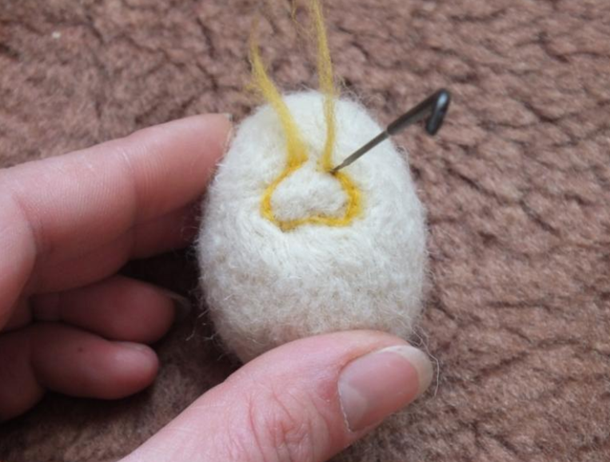 Now fill in the yellow wool, try not to go beyond the contour.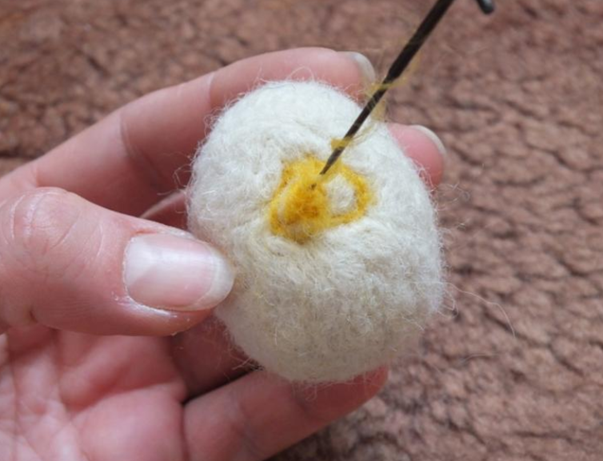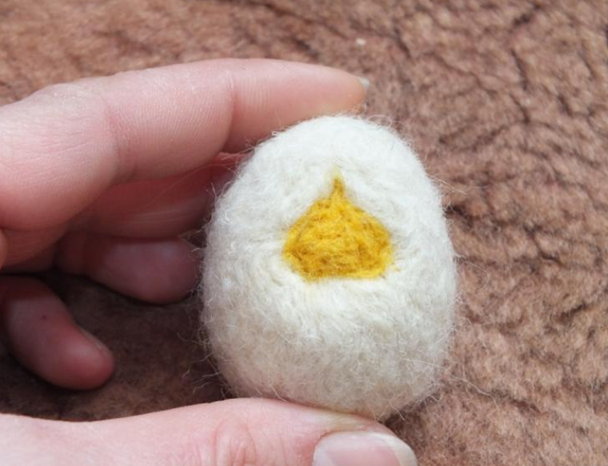 Now form the wall of the church, holding tautly blue wool (You can use brown, black or any other wool) make flat vertical stripes.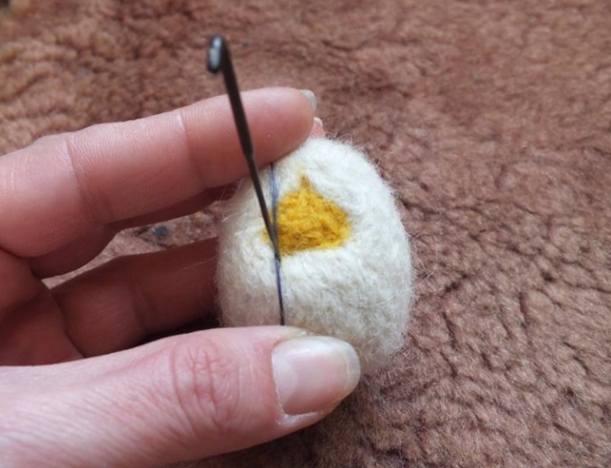 So do the same with the other side and bottom. It turns out the Church.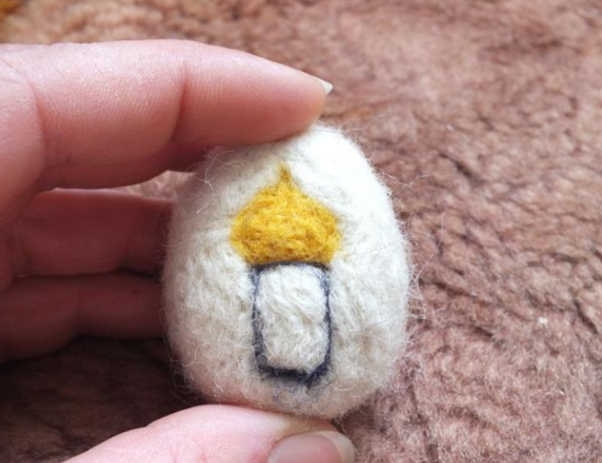 Then make a window.

Lay out the trunks of trees. For this you can take two shades of brown, connect them with thin strands and make the trunk.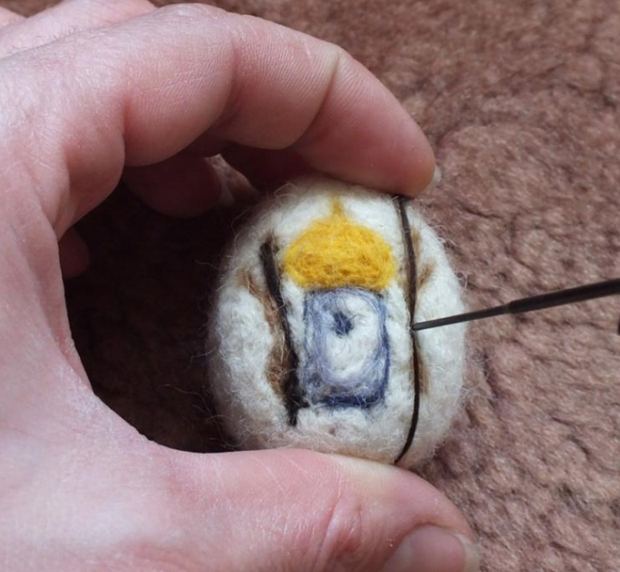 It remains to add greenery, apples and flowers.

Now use needle to correct deformation. Orthodox Easter egg is ready!