Halloween food ideas (part 1)
Preparing for Halloween, learn to make delicious goodies with a terrible view. Let the appetite not add up from these frills, but in the topic.
The first recipe is very simple: we take plastic tubes, fill them with a mixture for making jelly and put it in the refrigerator for at least 8 hours.
When the gelatin has solidified, hold the straws under running hot water for a few seconds, and then squeeze out the "worms" from the straw with your fingers.
Lay them on waxed paper and refrigerate for another 2 hours.

The following recipe:
150 g of butter, 200 g of sugar, one egg, 1 teaspoon of vanilla sugar, 1 teaspoon of baking powder, a little salt, 350 g of flour, whole almonds, a little chocolate. Heat the oil to room temperature and beat with sugar and vanilla. Add the egg, mix. Mix flour with salt and vanilla. Knead the dough, mixing the dry and liquid ingredients. It should be hard and not sticky so that the cookies do not fade in the oven. Put in the refrigerator for 30 minutes.
Take on a small piece of dough, hand on the table to roll into the "sausage".
This is the basis for the finger. To give the shape of a finger. Chocolate melt, add a little water and grease the nail space and the end of the finger. On each finger put the almonds and press down. Cookies bake for 20 minutes at a temperature of 180 C.

Salad with mushrooms for rawfoodist: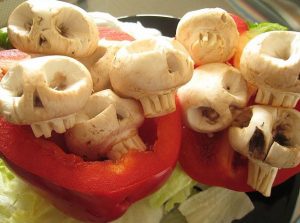 sandwich can be with anything – with cheese, for example. The main thing in this recipe is artistic carving for bread.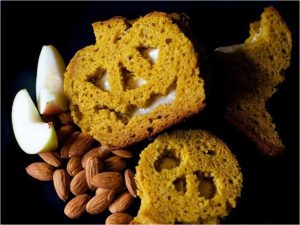 A small watermelon without pits. Well, this requires much more skill.

Meatloaf. Let's do something like a big cutlet.

From stuffing, formulate a brush. And from a bow it is possible to make fingernails or nails.

Before cooking, cover the meat with ketchup.

Especially creepy, such a hand looks, if it is imposed and cheese.

Around the "fingers" you can neatly place the mashed potatoes.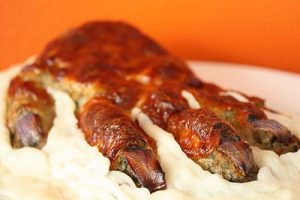 Before cooking, you also need to put the onion on the other hand. It seems like a bone.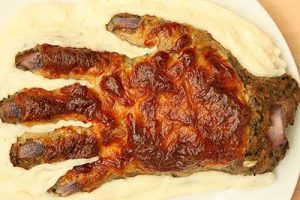 The web. Halloween food for kids.

We take the sticks, connect them with melted white chocolate. (Everything is done on wax paper). In the center – the raisins and Splash from ordinary chocolate.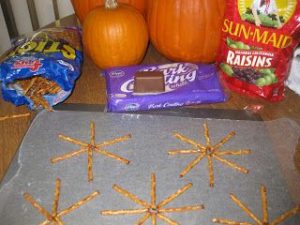 Fingers of sausages.

Melted chocolate, placed in a cooking syringe, it is possible to make some general any monsters.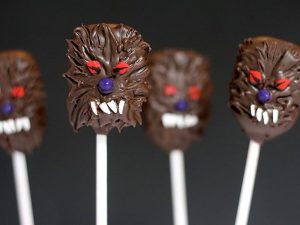 From marzipan you can do anything.