Presents for mom: Multi-colored roses
Flowers is wonderful and loved by all women present for mother's day and birthday. Men give roses very often. And no wonder, cause the rose is queen of flowers! Red, pink, white, yellow – all these shades of roses all well acquainted. How about, blue, green, purple, or rainbow roses?
Sure, these multi-colored roses you have not met!
But it's easy to fix, because you can paint roses at home with their hands. Intrigued? Still! As a result of this magical rituals, from an ordinary one-colored roses we'll get such a beauty!

Ready to repeat and create a unique bouquet of colorful rainbow roses? If yes, then let's go.
First, you need to take a fresh rose on a long stem, with the unopened buds. This will allow to keep the roses in a vase, and, of course, the probability of premature aging are reduced. Also, we need food coloring, sugar and a tall vase.
First of all, prepare the staining solution. For this we take a container of water and fill there food coloring in the desired color and we will mix it up.


You need to prepare a saturated raspor, i.e. the solution in which the dye will no longer dissolve. Then, add 2 teaspoons of sugar, the sugar will help dye to get faster to the petals and paint colors. Then pour the resulting solution for painting roses in a vase. You need to fill a half of the vase – this will be enough.


The stems of the roses should be cut at an angle. Thus they need to be kept under running water, this will allow the capillaries to be more open and, consequently, holds better dye.
After that, put the roses in a vase and leave for three days. During this time the dye has time to rise to the petals and paint them in the desired color. Of course, three days is not the limit, the longer the roses will stand in the solution, the more intense the color will be.

You can try various combinations of the basic primary colors of roses and different colors of dye. You can, mix different colors to get new original shades – it will be very beautiful.

Here briefly the technology of dyeing roses at home. With it you can get roses of different colors.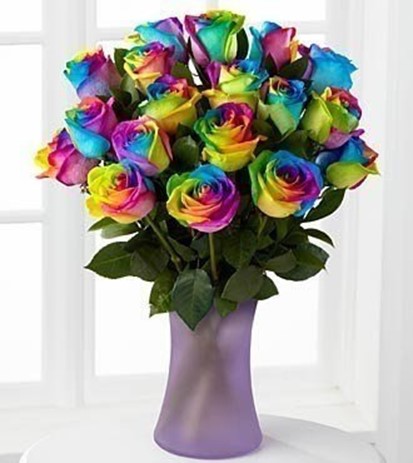 A bouquet of these colorful rainbow roses will be a wonderful present for mom, grandma, sister, girl and wife mother's day, 14 February or on the birthday.