Sweet toy: make a pillow-donut
Kids love sweets! Just imagine their delight when their room will be a tremendous sweetness with which you can play as much as you want! Today we will talk about how to make a sweet gift for your child: big sweet donut, which will not be sticky glaze and harmful ingredients — only the joy, fun and good mood.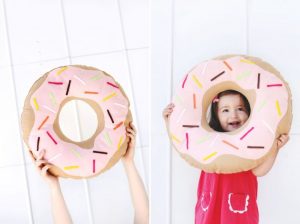 What you will need
A piece of brown fleece or wool, a length of 50 cm (19.7 in);
Polyester batting or other filler;
Small pieces of colored fleece or wool;
Sewing machine;
Chalk / marker;
A piece of fleece or wool for the glaze — any color (we have pink);
Tailor scissors;
Dressmaker pins;
Needle and thread;
Round items large and small diameter.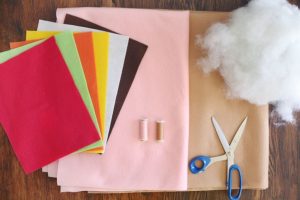 Fold the brown fabric fleece or wool in half, secure with pins along the edge to lock the fabric . Take any object of a circular shape, which you have at home: basket for paper, a large clock, round tray, etc. trace the circle on the fabric with chalk along the contour of the subject.
Mark the center of the circle on the fabric. Take the subject of smaller diameter, trace its outline on the fabric (this is the hole in the donut). Cut blanks for the base of the donut pillows.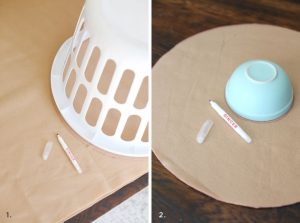 Take the fabric that you chose for the frosting, and draw a circle of the same diameter. Then manually shape the glaze: you need to draw a wavy contour.
Draw a wavy line around a small circle. Cut along these lines. This is the glaze for the donut.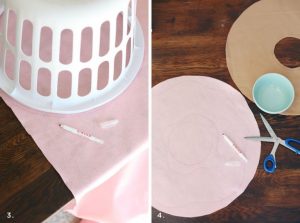 Colorful pieces of fleece will use in order to create a "powder" for a donut. Cut small narrow strips of different colors.
Place them randomly across the surface of the glaze, and pin the tailor's pins.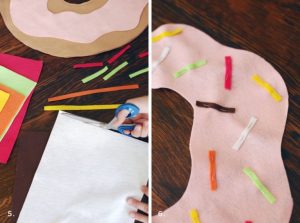 Use an ordinary straight stitch sew our "powder", multicolored stripes to the fabric-glaze. The line should go at the center of these strips.
Attach our fabric-glaze to one side of the donut on the front side of the fabric. Place so that the frosting looked neat. Pin around the perimeter of tailor's pins.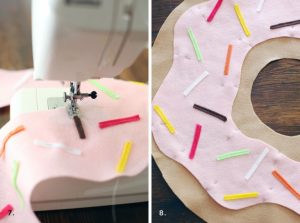 Using stitch sew the icing — on the edge loop to the main part of the doughnut.
Attach 2 brown foundations of doughnut to each other so that we watched the front part. Sew 2 pieces together we will seam, necessarily leaving a hole about 10-12 cm (4-5 in) is not sewn!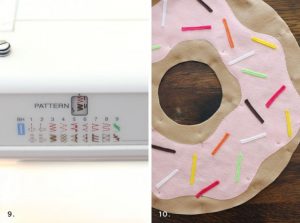 Fill pillow with filler. Tamp it so that the filler was evenly distributed throughout the pillow, and she was not too soft and not too hard.
Secure the seam of the tailor pins through which stuffed the pillow, and sew it on the sewing machine or by hand. Our pillow is ready!